INES-Ruhengeri got a Center for Genomic Biology
On Tuesday, 28th February 2023, His Lordship Bishop Vincent Harolimana officially inaugurated the Center for Genomic Biology, at INES-Ruhengeri, the Institute of Applied Sciences which is located in Musanze District.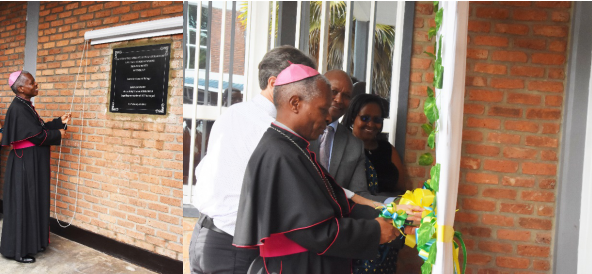 Bishop Vincent Harolimana officially inaugurating the Center (photo/Vedaste)
The Center staff got an opportunity to explain to Bishop and other various participants the aim and activities that will be carried out in the center. In fact, this Center is the first one of this kind in Rwanda which will be an answer to infectious diseases, cancer, and other diseases.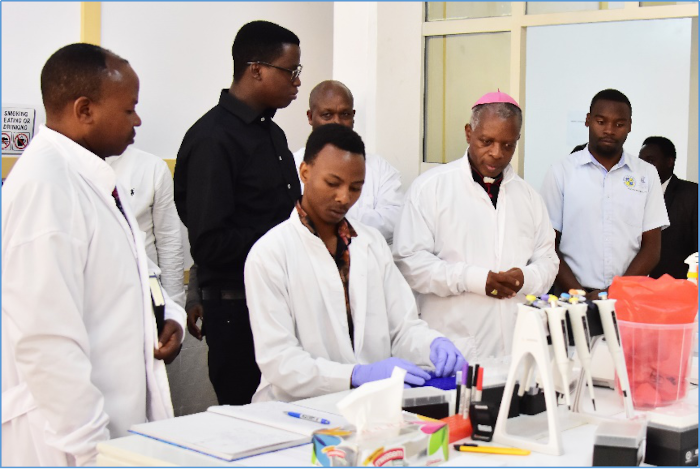 The laboratory visit tour (photo/ Vedaste)
The Center for Genomic Biology was established under the partnership between INES-Ruhengeri, Brown University, and North Carolina University in the USA. Currently, the Center starts by the project assessing the Artemisinin resistance in Rwanda and neighboring countries as Malaria is a serious human killer in the region. It is a project for 4 years.
"It is the capacity that will leverage DNA technologies to measure how the mosquitoes causing malaria are mutating over time. We will not only measure that one but we will also map the resistance across the whole country in Rwanda from East to West, from North to south; from every corner of Rwanda", Dr. Jean Baptiste Mazarati, Chairman of INES Council revealed.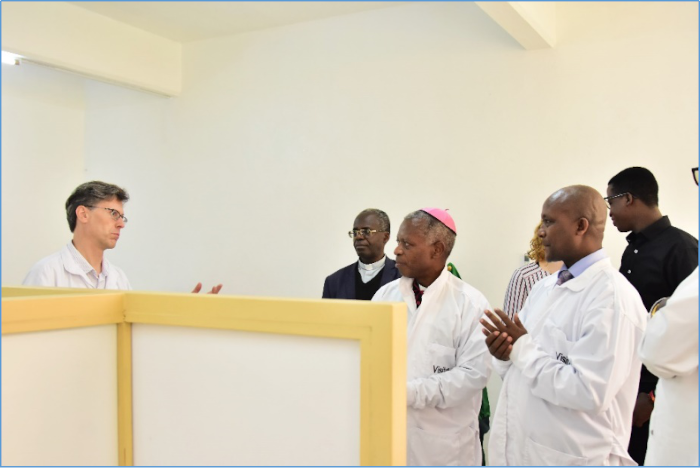 Dr. Jeff Bailey, Managing Director of the Project (left) highlighting its expected results(Photo/Vedaste)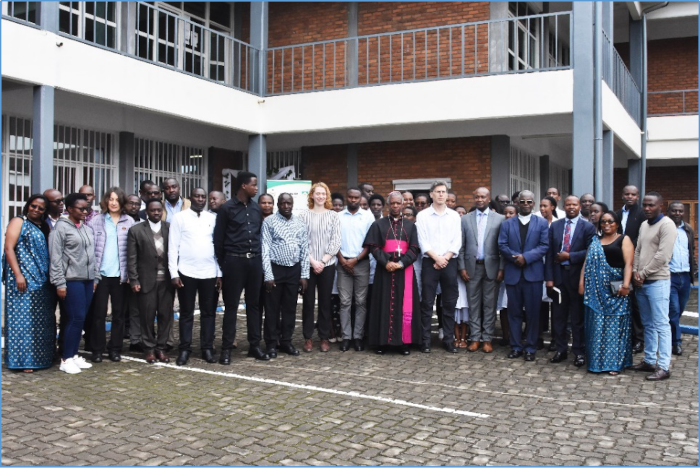 Center for Genomic Biology: the result of a strong partnership (photo/Vedaste)
In this context, a kick-off meeting to implement the project took place at INES-Ruhengeri, on 1st March 2023. The meeting was attended by the project staff, INES Ruhengeri administrative and academic staff as well as some partners including the Mayor of Musanze District, Mr. Ramuli Janvier who appreciated this achievement not only for Musanze but also the entire country. He underlined that the academia and local health centers will benefit more from the Center.
In this meeting, it was noted that fighting Malaria needs collaboration with neighboring countries because the fight is common.
"INES is willing to collaborate in this project and the staff is available", said Fr. Dr, Jean Bosco Baribeshya, Vice-Chancellor of INES-Ruhengeri during the meeting.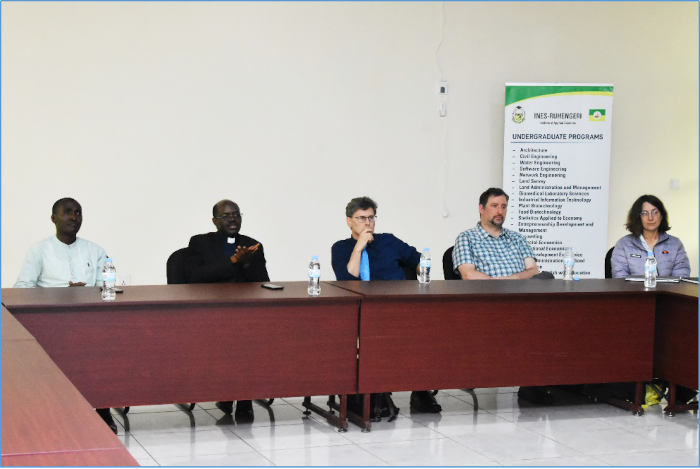 Fr. Dr. Jean Bosco Baribeshya presenting INES-Ruhengeri (photo/Vedaste)
"We are committed and we will be always involved in the project implementation", Vice –Chancellor added while he was presenting INES-Ruhengeri to the audience.
The students of Biomedical Laboratory Science said that the Center for Genomic Biology will help them during the diagnosing of different diseases as they will be detecting the DNA of the parasite or any micro –organism. It will help them to make more practice and it will help them to be more competitive compared to the other universities.
FAWE-Rwanda—a local non-governmental organization launched the Tuseme Club at INES-Ruhengeri.

read more

Memorandum of Agreement for education promotion was signed between INES-Ruhengeri and Direct Aid Rwanda Office

read more

Deputy Vice-Chancellor in charge of Academics and Research at INES-Ruhengeri, Dr. Samuel Sindayigaya requested Lecturers from different Higher learning institutes to keep on working together in order to have well-skilled graduates.

read more