LAND ADMINISTRATION DEPARTMENT
Head of the Department
MANIRAKIZA Richard, PhD Real Estate, Valuation, and Property Management
Phone:+250 782002591/+250727125246
Email: m.richard@ines.ac.rw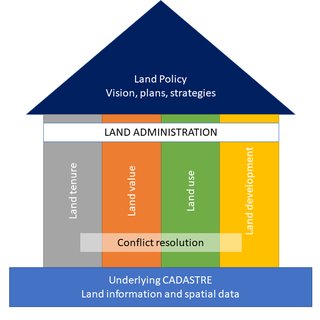 COURSE INFORMATION
Land administration concerns the collection, storage, and dissemination of information about ownership, value and use of land while implementing land management policies. Core in land administration is the cadaster, which is an official record of information about land parcels, including details of their boundaries, tenure, value and use of land. Such land information, combined with other geographical information or SDI makes information available to decision-makers and provides the capacity to control and manage land through the four land administration functions: tenure/ownership; value; land use and land development. Such information is also useful in land dispute resolution; stimulating land market and helping decision-makers make better use of land through efficient land use planning.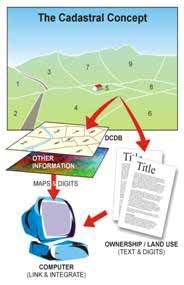 (Williamson et al; 2010)
Graduates from this programme will be comprehensively equipped in matters related but not restricted to: cadastral surveying, land law, real estate valuation, land registration, land dispute resolution, computer-based mapping among others.

Course Objectives
The overall objective is to eventually strengthen the manpower capacity of institutions engaged in land related activities, environmental management and protection, etc. Specifically, the objectives of the programme are to:
Produce graduates who are competent in solving land-related problems creatively and analytically based on economically and socially sound facts;

Produce graduates with adequate knowledge and skills to administer, manage and develop land resources;

Produce graduates with leadership and professional skills and able to apply the acquired knowledge for land administration, management and development; and

Equip graduates with the capacity to effectively respond to institutional, operational and organisational challenges in the various land-related fields.


Degree and Academic Award
BSc Degree in Land Administration and Management


Course structure
This is a 3 years program


Admission Requirements

Direct Entry Requirements
The general entrance requirements at the university level shall apply with applicants meeting the following specified entrance requirements:
One must have sat and passed at level A1 or its equivalent with the following subject cluster combinations: (Maths, Physics, and Chemistry); (Maths, Chemistry, Biology); (Maths, Computer Science, Economics); (Maths, Economics, Geography); (History, Economics, Geography); (Maths, Physics, Geography); (Maths, Physics, Biology).

Or TVET Diploma in a relevant land-related discipline;

Or any degree holder in any field. Credit transfer is subject to approval by the Senate.


Self-Sponsored Students
Privately sponsored students must meet minimum university entry qualifications. Selection and admission to the programme will be based on the availability of vacancies/space.


Career Prospects
Given the broad nature of land administration and management, the graduates are trained for careers in land acquisition, land administration, land information management, real estate, land use planning and development and research. Graduates of this course are expected to work as land administrators, land acquisition negotiators, land development consultants, land developers, land researchers, property valuers and land investment advisors in the organization such as:
Land registration and cadastral agencies;

Financial institutions such as banks dealing in mortgages;

Property development and management companies;

Tax authorities;

Infrastructural development organizations;

Real estate appraisal firms; and
Non-Governmental organizations.
LEVEL 1



No.

Module Name

Credit Hours

Instance Name

Lecture Hours

Student Hours

Credits

1

English and French Languages

50

English

32.5

18.5

5

French

2

Introduction to Land Administration

100

Introduction to Land Administration

65

35

10

3

Basic Mathematics

150

Algebra

97.5

52.5

15

Trigonometry

Calculus

Analytical Geometry

Differential Equations

4

Philosophical Studies

100

Introduction to Philosophy

65

35

10

Ethics and Creative Thinking

5

Communication and Essay writing skills

100

Communication skills

65

35

10

Essay writing skills

6

Probability and Statistics

100

Probability

Statistics

65

35

10

7

Principles of Economics

150

Micro-Economics

97.5

52.5

15

Macro-Economics

8

Environment and Natural Resource management

150

Environment and Natural Resource management

97.5

52.5

15

9

Basic Computer Skills

150

Introduction to Computer Science

97.5

52.5

15

Computer Programming

10

Basic Building materials and Construction

150

Building materials

97.5

52.5

15

Construction

Total

1200

780

420

120
LEVEL 2
No.

Module Name

Credit Hours

Instance Name

Lecture Hours

Student Hours

Credits

1

Sociology

100

Sociology

65

35

10

2

Introduction to Law

150

Introduction to Law

97.5

52.5

15

Tort Law

Environmental Law

Comparative Law

2

Introduction to Surveying

150

Introduction to Surveying

97.5

52.5

15

3

Introduction to valuation

100

Introduction to valuation

65

35

10

4

Remote Sensing and Data Handling

150

Remote Sensing

97.5

52.5

15

Photogrammetry

Cartography

5

Real Property Market and Agency

150

Real Property Market

97.5

52.5

15

6

Purposes of Property Valuation

200

Statutory Valuation

130

70

20

Non-Statutory Valuation

7

Land Law and Tenure Systems

200

Land Law

130

70

20

Land Tenure Systems

Total

1200

785

415

120
LEVEL 3
| | | | | | | |
| --- | --- | --- | --- | --- | --- | --- |
| NO | MODULE NAME | CREDIT HOURS | INSTANCE NAME | Lecture hours | Student hours | credit |
| 1 | Geographic Information systems(GIS) | 200 | GIS | 130 | 70 | 20 |
| 2 | Physical planning | 200 | Physical planning | 130 | 70 | 20 |
| 3 | Investment Theory and practice | 100 | Investment Theory and practice | 65 | 35 | 10 |
| 4 | Scientific research methodology | 100 | Scientific research methodology | 65 | 35 | 10 |
LEVEL 4
| | | | | | | |
| --- | --- | --- | --- | --- | --- | --- |
| NO | MODULE NAME | CREDIT HOURS | INSTANCE NAME | Lecture hours | Student hours | credit |
| 1 | Principles and methods of property valuation | 200 | Principles and methods of property valuation | 130 | 70 | 20 |
| 2 | Research methods | 100 | Research methods | 65 | 35 | 10 |
| 3 | Cadastral survey | 150 | Cadastral survey | 97.5 | 52.5 | 15 |
| 4 | Land information systems | 150 | Land information systems(LIS) | 97.5 | 52.5 | 15 |
LEVEL 5
| | | | | | | |
| --- | --- | --- | --- | --- | --- | --- |
| NO | MODULE NAME | CREDIT HOURS | INSTANCE NAME | Lecture hours | Student hours | credit |
| 1 | Industrial attachment | 100 | Industrial attachment | 65 | 35 | 10 |
| 2 | Disposition and conveyancing | 150 | Disposition and conveyancing | 97.5 | 52.5 | 15 |
| 3 | Negotiation and land conflict management | 100 | Negotiation and land conflict management | 65 | 35 | 10 |
| 4 | Spatial data infrastructure | 100 | SDI | 65 | 35 | 10 |
| 5 | Valuation casework and professional practice | 100 | Valuation casework and professional practice | 65 | 35 | 10 |
| 6 | Land reforms and development | 100 | Land reforms and development | 65 | 35 | 10 |
| 7 | Principles of management and leadership | 100 | Principles of management and leadership | 65 | 35 | 10 |
| 8 | Evaluating land administration systems | 100 | Evaluating land administration systems | 65 | 35 | 10 |
| 9 | Dissertation | 200 | Dissertation | 130 | 70 | 20 |
| 10 | Applied property valuation | 150 | Applied property valuation | 97.5 | 52.5 | 15 |