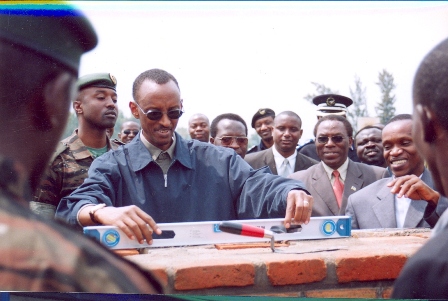 INES-Ruhengeri officially opened its doors on November, 17th 2003, under the name of
"Université Internationale au Rwanda (UNIR)"
but the idea to its creation came in September, 2000 under the initiative of Ruhengeri Catholic Diocese. This idea was triggered by a triple motivation: (1) building signs of hope, (2) contributing to unity and reconciliation and (3) contributing to the country's sustainable development.
His Excellency Paul KAGAME, President of the Republic of Rwanda laid the foundation stone for the launch of the construction of the Campus, on June 30th, 2003. INES obtained its degree awarding powers by the Ministerial order number 005/2010/MINEDUC of June 16th, 2010. Its first graduation ceremony took place on June 30th 2010.
Since its creation in 2003, INES chose following experts' recommendations and the surrounding communities' orient its teachings to Applied Sciences. By applied we mean that all the taught sciences at INES are applied to the population daily problems, seeking to propose answers to them.
INES programs titles and contents have been formulated and redesigned with this orientation in mind Competence based learning Student centered approach Labour market orientation Relation with professional Institutions Applied research in connection with Regional Development
Knowledge circulation is a key strategy to position INES in the external environment and to shape the interrelation between academic services and regional/ labour market developments. The concept of knowledge circulation is translated into a model to connect the learning process with knowledge creation (of individuals, groups, the organization – internal and external), in order to realize continuous change and improvement to achieve the goals required by the clients and the institution.