INES-Ruhengeri in collaboration with NYEREKA Tech Ltd offered a one-day workshop on the IoT to the Computer Science students
As part of professional development, INES-Ruhengeri has invited NYEREKA Tech Ltd -an external expert to conduct a one-day workshop for students in Industrial IT option, year 3. The workshop took place on Tuesday, 11th May 2022 at INES-Ruhengeri, in Musanze District.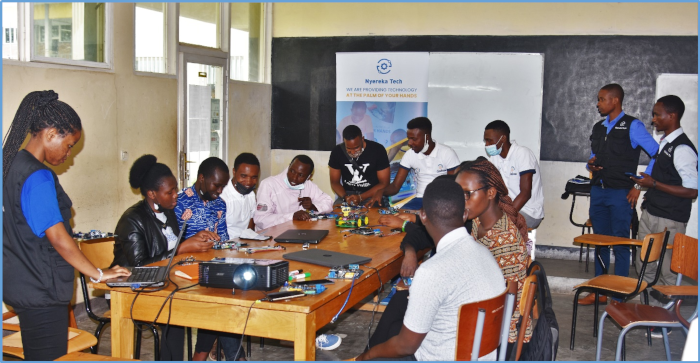 Students in Industrial IT option in the workshop (Photo/ Vedaste)
"This workshop aims at helping students in IT option to further improve and develop practical skills in some modules such as embedded systems, internet of things as well as control systems and robotics.", mentioned Eng. Rukundo Eraste, Acting Head of Department of Computer Science.
"As the department in charge, we have been doing our best to look for some ways to help students with their practices." Eng. Rukondo Eraste added.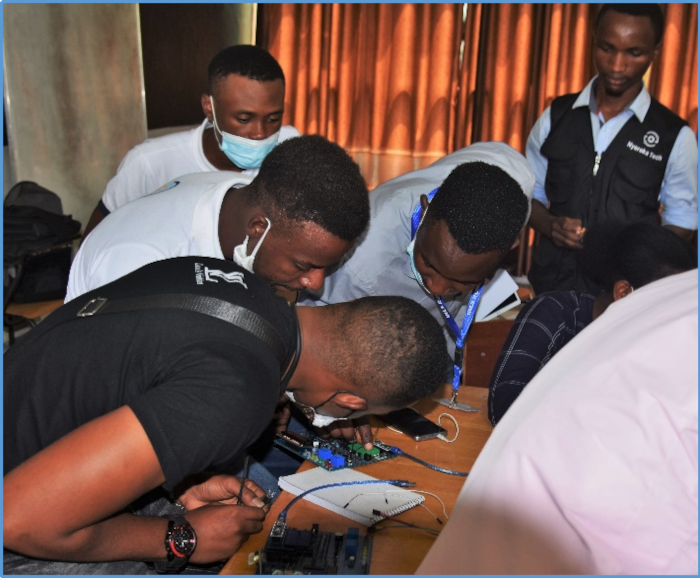 Interns from Mayotte developing a project for the internet of things (Photo/Vedaste)
Radjabou Raju, a student from Mayotte who is doing his IT internship at INES-Ruhengeri ensured that he has gained much more from the concerned workshop, especially how to deal with firefighting and save a life.
"This workshop was really inspiring. I knew many things about door locking and unlocking using a card, smart irrigation, and robotic cars", Mrs. Kamikazi Raissa, a student in Computer Science supplemented.
Nyereka Tech aims to help young girls and boys to build their capacity to meet with professional skills and Technical schools to generate the best-qualified students in Rwanda Market.
"Nyereka Tech helps technical schools to get the best educational materials like learning tools and receive industrial attachment for their students", revealed Mr. Shadrach Munyeshyaka, the Chief Executive Officer of Nyereka Tech Ltd.
The Computer Science Department ensures that the workshop would be the most beneficial not only to the students of this option but also to the goal of INES to generate human resources meeting the requirements of the 4th generation industrial system.
On Wednesday 27th July 2022, INES-Ruhengeri, the Institute of Applied Sciences got a new Vice-Chancellor, Fr. Dr. Jean Bosco Baribeshya

read more

On Thursday, 15th December 2022, INES-Ruhengeri, the Institute of Applied Sciences, was celebrating the 14th graduation of 889 including 18 graduates in the master's program

read more

INES-Ruhengeri, the Institute of Applied Sciences, was in a joyful celebration of the 13th graduation of 872 women and men who, despite Covid-19 difficulties have made it possible.

read more