Profile: Prof. VALENTINO Roberto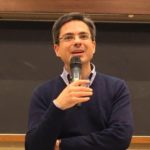 Roberto Valentino is Associate Professor in Geotechnical Engineering at the University of Parma (Italy).
He got his master's degree in Civil Engineering at University of Parma in 1999 and Ph.D. in Geotechnical Engineering at Polytechnic of Turin in 2004.
Since March 2005 until February 2006 he received a grant by EU Funding and Emilia Romagna Region (Spinner Project) for the development of an early warning system related to rainfall-induced landslides.
Since 2006 to 2013 Research Assistant and from 2013 to 2016 Assistant Professor in Geotechnical Engineering at the University of Parma.
The main research interests deal with: (i) slope stability; (ii) shallow landslides susceptibility on regional scale; (iii) soil-atmosphere interaction; (iv) innovative technologies in foundation remediation.
Since 2009 is chiefly responsible of a research project regarding innovative technologies for micro-piles and expanding polyurethane resins on behalf of Novatek s.r.l. (Italy).
He is co-author of 26 papers on international journals, 40 papers on national and international conference proceedings and Guest Editor of 3 Special Issues on international journals.
Member of the editorial board of the following journals: Rock Mechanics and Rock Engineering (Springer) (since June 2018); ICE Proceedings – Geotechnical Engineering (since October 2015); Innovative Infrastructure Solutions (Springer) (since June 2015); Open Journal of Civil Engineering (Since January 2012).
At the University of Parma he teaches Rock Mechanics and Slope Stability (Master Degree in Environmental Engineering) since 2013 till now; Geotechnics (Master Degree in Architecture) since 2015 till now, and Geotechnical Engineering (Master Degree in Geology) since 2019 till mow.
He was the supervisor for more than 50 master's degree thesis in Geothecnics.
Since 2019 he is deputy director of the University Center for International Cooperation at the University of Parma.
He is the coordinator of the project named "EnRHEd" (Enhancement of Rwandan Higher Education in strategic fields for sustainable growth) awarded for EU co-funding within the framework of the Erasmus+ programme "Capacity Building in the Field of Higher Education" 2020-2023 (https://enrhed-erasmusplus.com/).
Email: roberto.valentino@unipr.it