Profile: MUNYENTWARI Clément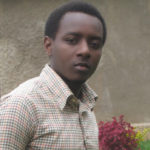 Clement Munyentwari holds a Master of Science in Information Technology from Carnegie Mellon University – Africa. He is currently Assistant Lecturer in Computer Science, Head of Department of Computer Science and ICT Coordinator at INES-Ruhengeri, teaching undergraduate Computer related modules, supervising students' research projects.
His current research interests are mainly in Local Based Content Software/Applications (Mobile/Web) design and development, Big Data and Internet of Things.
Email: mclement@ines.ac.rw;
Tel: +250788807133.