Profile: Dr. NSANZIYERA Ange Félix (HoD)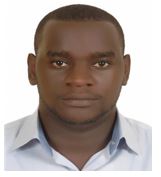 Dr. Ange Félix NSANZIYERA born in Rwanda on the 29th of April 1987 is a holder of PhD in GIS & Remote Sensing (2019) and a Master's degree in GIS & Land Management (2013) from Hassan II University of Casablanca (Morocco). He also has a Bachelor's degree in Geomatics & Land Management (2011) from Sultan Moulay Slimane University of Beni Mellal, Morocco.
He has attended several professional trainings including International Training Course on "Seismology, Sesmic Data Analysis, Hazard Assessment and Risk Mitigation" organized by GFZ German Research Center for Geosciences in Accra, Ghana; Training on "Challenge and opportunities in facing Sustainable Development Goals, SDG's" organized by FIG (Féderation International des Géometres). Musanze, Rwanda; Training on "Value Chain Management – NIMPF Tool", organized by Nuffic (Netherland)in Kigali, Rwanda and an online "General Course of Intellectual Property" organized by World Intellectual Property Organization in Casablanca, Morocco.
Dr. Ange Felix NSANZIYERA worked as a lecturer at INES – Ruhengeri and Remote Sensing and GIS Consultant with different institutions and companies these for 5 years. With around 5 years of professional experience, Dr. Ange Felix NSANZIYERA is specialized in the areas of GIS, Remote sensing, Database Management Systems, Geodetic surveying, GNSS (Global Navigation satellites system) data collection, Land-use mapping and planning, Digital Terrain Modeling and analysis, Hydrological and flood modeling. Physical Layout plan and master plan, Seismic data processing and analysis, Archaeological modeling, and Predictive models. He is one of the most leading remote sensing and GIS Experts in Rwanda with proven experience in; Geographic Information System (GIS), mapping, Remote sensing analysis, Hydrological modeling, Catchment Analysis, field survey, and capacity building. Dr. Ange Felix has vast working experience with local and international organizations and donor agencies like Netherland Embassy in Rwanda and EDCL (LKMP). He has worked as a GIS Researcher, GIS Expert, Remote Sensing Expert, Lecturer of GIS, Project coordinator, etc. throughout his career.
Dr. Ange Felix NSANZIYERA has in-depth knowledge on mapping and statistical analysis software like ArcGIS, ERDAS Imagine, ENVI, SPSS, R-Statistics, QGIS, Geomatica, PIX4D, Access, Python, HTM, PHP, Xml, etc. He has outstanding communication skills and excellent command over English, French and Kinyarwanda languages.
——————————————————–
Contact
Phone: +250 787 715 706
Email: felixon87@gmail.com