14th Graduation: 889 graduands including 18 master's candidates graduated
On Thursday, 15th December 2022, INES-Ruhengeri, the Institute of Applied Sciences, was celebrating the 14th graduation of 889 including 18 graduates in the master's program.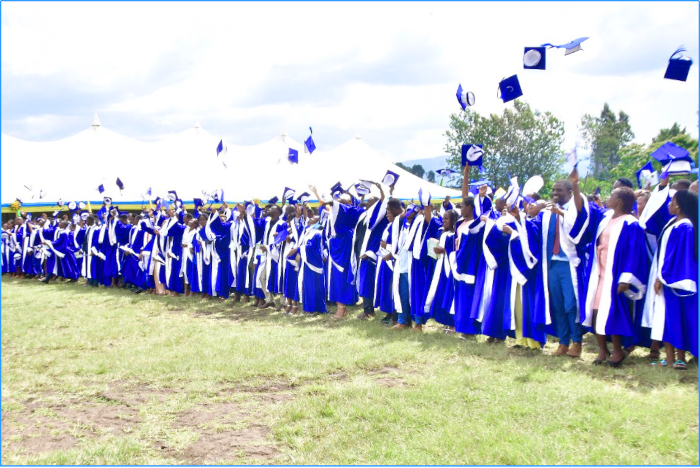 Graduates celebrating their academic achievement (Photo/ Protais)
The representative of the Minister of Education during this ceremony, Dr. Rose Mukankomeje- Director General of HEC reminded the graduates to be job creators instead of job seekers. She requested them to find solutions to the problems found in their respective communities of residence. She encouraged them to keep learning in further levers. ''Smart people keep learning", she mentioned.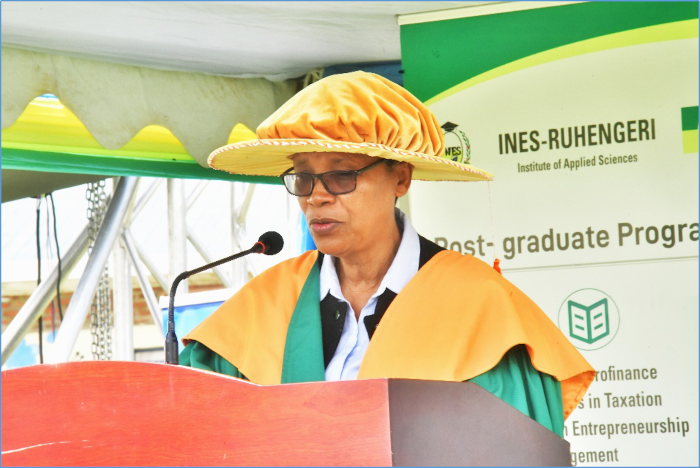 Dr. Rose Mukankomeje congratulating the graduates (photo/Protais)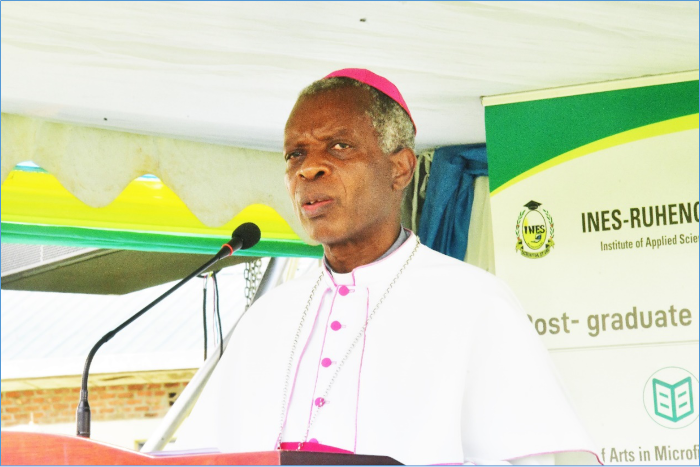 His Lordship Bishop Vincent Harolimana addressing to the graduates (photo/Protais)
In his speech, His Lordship Bishop Vincent Harolimana and Chancellor of INES-Ruhengeri called upon all graduates to have good behavior and adequate values wherever they will be serving. He advised them being guided by INES' motto "Scientia et Lux" which means "Science and Light" as well as to be good ambassadors of INES-Ruhengeri. The Bishop continued saying that INES-Ruhengeri has a Strategic Plan 2019-2024 through which is striving to have quality education. He thanked all partners and requested them to keep working hand in hand in promoting quality education.
The figures of 14th graduation demonstrate that females are no longer fearing sciences.
"Out of the total number of 889 graduates, 483 are females representing 54.3 % while 406 are males 45.6 %. " This is good sign of breaking away from the believes saying that ladies fear sciences. Congratulations to our ladies, congratulations to our Nation which promotes girls education in all disciplines", Vice-Chancellor of INES-Ruhengeri, Fr.Dr. Jean Bosco Baribeshya said in his welcome remarks.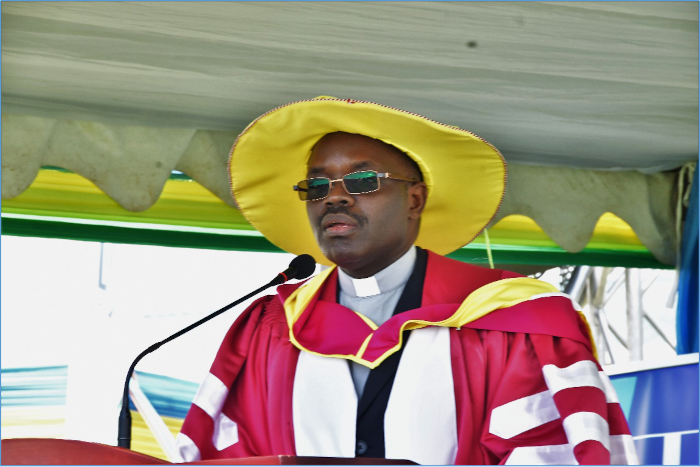 Fr. Dr. Jean Bosco Baribeshya, Vice-Chancellor of INES-Ruhengeri (Photo/ Protais)
Vice-Chancellor went on saying that by the graduation ceremony, INES-Ruhengeri also celebrated many other achievements including the admission and registration of 988 fresh students and 2786 continuing students.
"So far, we have a total number of 3774 students. This has been possible through the tireless efforts of various directorates not to mention the fact that INES has strengthened its name not only in Rwanda, but also in different African countries. Actually we have at INES more than 321 students from 17 nations", Vice-Chancellor added.
In the same line, INES was celebrating the Accreditation of New programs and Revision of existing programs. Three new Master's programs were accredited by High Education Council (HEC): Master of Laws in Applied Criminal Law, Master of Science in Biomedical Laboratory Science, Master of Science in Software Engineering. A Bachelor of Science in Information Sciences and Library Management has been accredited. The Program of Land Administration and Management was revised and approved as Land Administration, Valuation and Real Estate Management with two options: Option of Land Administration and Management, and the Option of Valuation and Property Management.
The ceremony was attended by various officials from public and private sector. Among them, the Governor of Northern Province, Mrs. Dancille Nyirarugero, Hon. Senator Ephrem Kanyarukiga congratulated INES-Ruhengeri for the applied sciences programs as well as the quality education it offers.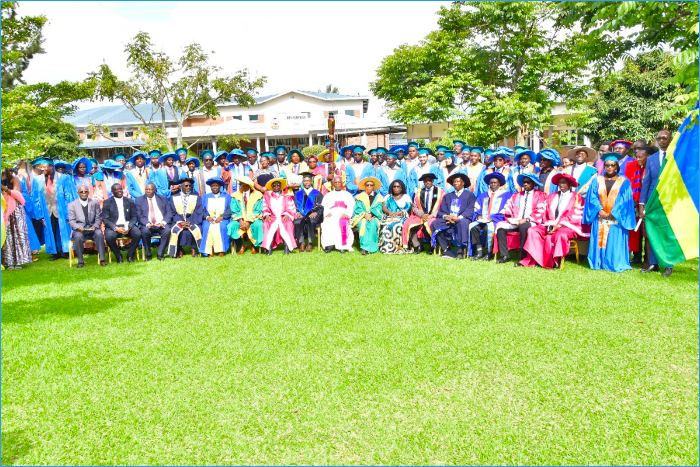 Various officials and Lecturers of INES-Ruhengeri (photo/ Protais)
On behalf of INES Alumni Members, Mrs. Faith Abatoni, graduated from INES University in 2015 in Rural Development Economics and currently working as Territorial Administration Specialist in the Ministry of Local Government (MINALOC) congratulated Graduands and thanked their parents, guardians and sponsors who have worked to make this academic achievements possible.
"This 14th graduation ceremony of INES signifies the University growth and determination to educate more Rwandans that will in turn contribute to the transformation of our families, communities we hail from and the Country in general", Faith Abatoni.
Speaking on behalf of the graduates, Ms. Linhan Divine Icyezumutima from Civil Engineering Department, thanked the Founders and the Management of INES-RUHENGERI for a good vision of this University. She ensured the are committed to serve the country and keep learning.
" Today, we are graduating seniors, and this summer or fall, many of us will be starting at those entry-level jobs that will be the beginning of our careers. Some of us will begin graduate school, once again on the bottom rung of the ladder. But thanks to everything we have learned so far, we are confident. We will keep climbing as if we are on an endless ladder to heights we've never achieved before", Ms. Linhan Divine Icyezumutima.
She added that their contribution to the world will not be measured by the money they make or the accolades they receive, but rather by how they share their unique gifts got from INES-Ruhengeri with the world.
I
INES-Ruhengeri- the Institute of Applied Sciences commemorated the victims of the 1994 Genocide against the Tutsi

read more

INES-Ruhengeri received 82 students of S6 level from the "College de l'Immaculée Conception - CIC Muramba" and they visited several laboratories which are well equipped.

read more

INES-Ruhengeri met at Classic Lodge in Nyakinama and celebrated together as one family of INES-Ruhengeri

read more