Profile: Dr.NZABONIMPA Jean de Dieu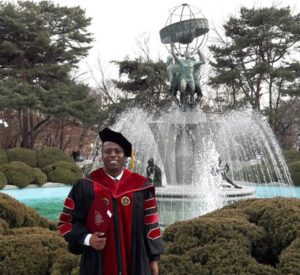 Dr. Jean de Dieu NZABONIMPA received his Bachelor's, Master's and Ph.D. degrees from the Department of Architectural Engineering at Kyung Hee University, Republic of Korea. Dr. NZABONIMPA is an expert in structural design and analysis of structural members subjected to various types of loadings. Dr. NZABONIMPA participated in various types of projects including the design of high-rise buildings such as apartments and office buildings in the Republic of Korea. Dr. NZABONIMPA introduced novel connections for precast concrete frames. These prefabricated frames were developed to assess the automation of concrete frames in the construction industry. The proposed novel construction technology was validated by performing both experimental and numerical analyses in order to make a reliable design that complies with International Building Regulations. In addition, powerful commercial available Softwares were used in both member design and structural analysis.
These Softwares include a licensed ABAQUS; a well-known software for Finite Element Analysis, CATIA for 3D modeling, Midas FEA, Midas Gen and Design+. Dr. NZABONIMPA performed extensive research on composite structures (steel-concrete frames) which consider the advantages of the interaction of both steel and concrete materials.
At the moment, Dr. NZABONIMPA is working as Lecturer in the Dept. of Civil Eng. at INES-RUHENGELI, and He is also conducting a joint research with Prof. Won-Kee Hong (Kyung Hee University, Korea). Dr. NZABONIMPA extensively contributed to the research projects funded by the Korean Government. Importantly, Dr. NZABONIMPA has published a significant number of manuscripts in top engineering journals (peer-reviewed journals).
Mobile: +250 786 793 426
Email: jean@ines.ac.rw